SILVER CREEK'S VALIDATION
Vallado / Lansing / Capitol I
AMERICAN BRED. INTERNATIONALLY SUCCESSFUL. INCREDIBLE CHARACTER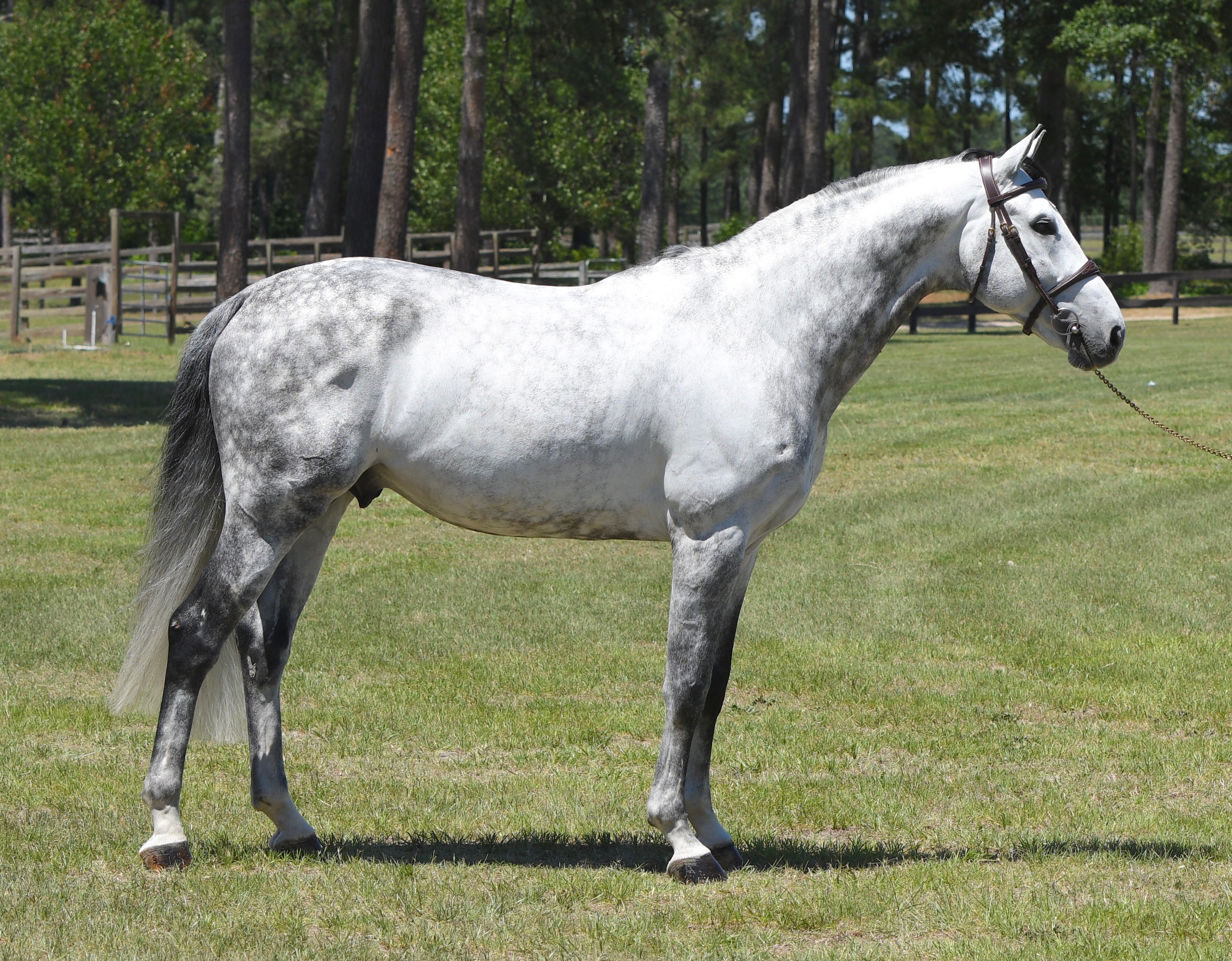 WINNER OF 2013 FEI WORLD BREEDING CHAMPIONSHIPS 6 YEAR CONSOLATION
Validation is a true sport horse stallion on all levels with impeccable character, type, talent, and pedigree. He earned 10s for his character, willingness to work, free jumping, and stadium jumping making him the clear winner of his 2009 North American 70-day Stallion Test. He was bred, born, raised, and developed in the United States before being exported to Germany as a 5 year old to compete. He has continued to demonstrate his superior quality with scores to 9.0 and consistent success in his young horse classes. While there and upon his return, he has shown himself to be an exemplary jumper!
2017 Aiken Spring Classic Finale 1.30m Open Jumper ~ 2nd Place
2017 Aiken Charity Horse Show I 1.30m Open Jumper ~ 4th Place
2014 CSI1* Young Horse 1.40m at Munster ~ 8th Place
2014 CSI1* Young Horse 1.30m at Lastrup ~ 2nd Place
2013 Winner of FEI/WBFSH  World Breeding Jumping Championships 6-Year-Old Consolation
Breeding true to himself, Validation is producing sporty foals who are leggy, modern, and athletic from a variety of mares. His first foal, Silver Creek's Vindication, was the top scoring Jumper Bred Colt on the Oldenburg Verband's 2012 North American Tour and was champion of the 2009 North American 70-Day Stallion Test with the following scores:
Overall Index (135.85)
Winner of Dressage Phase (128.08)
Winner of Jumping Phase (140.66)
Validation's sire, Vallado, comes from the successful Now or Never M and Saros xx cross that is producing many outstanding young sport horses, premium mares, and approved stallions (Alchimist, Toronto NLD, Uccello, Valentino, Wilton, etc.). At the KWPN judgement of the three-year old progeny in 2003, the following remarks were made about Vallado's sire, Now or Never M, "The former champion of the stallion show, Now or Never M, of whom it has been made public that he will serve in Germany, scores the highest in this group. He produces correct and strong models, who move correctly, which has resulted in a high percentage of ster predicates". Now or Never M is from the exceptional bloodlines of Voltaire (jumping index 152 / dressage index 130), Nimmerdor (jumping index 156), and Maykel, sire of the international show jumper, Cavalier. Vallado's dam, a ster predicate mare, was sired by the improvement Thoroughbred sire, Saros (dressage index 156), who comes from a strong line of successful steeplechasers, race winners, and sport horses. Saros' dam also produced Swazi, the sire of the good Trakehner stallion, Consul. Vallado's second dam, a keur predicate mare, was sired by the Holsteiner stallion, Important. Vallado's third dam, Jacaranda, produced Baranda, dam of the approved stallions, Alchimist, Gouverneur, and Uccello, and Feranda who was successful in dressage in addition to producing the approved stallion, Terrano. Jacaranda was sired by the Holsteiner stallion, Amor (jumping index 139), who was a very successful sire with Dutch mares producing many international competition horses and approved stallions.
Validation's dam, Rexana, earned 50 bonits from the Holsteiner Verband at her mare approvals in Germany and is a Premium Select mare. She is the dam of two approved stallions, Validation S by Vallado and Casciendo S by Cassiano, as well as 100% Premium foals. Her dam, Eibe III, is a product of the very successful Capitol I / Sacramento Song xx cross which has produced successful showjumpers such as Campesino, Campione, and Capitalist and she is a full sister to the international sport horse, Cassandra. His third dam, Rasandra, is a full sister to the international sporthorse and approved stallion, Sympathico, and Nalome, dam of the approved stallion, Le Noir, international sport horse, Leonidas 40, and D-Lucca, dam of the approved stallion, Caron. Rexana's Holsteiner stamm line, 2067, has produced many approved stallions and international showjumpers including Landstreicher, Lausbub, Leonardo, and Lordon 3.